A woman of utmost grace, beauty and simplicity; immaculately well-spoken, strong, gentle, yet passionate about life - that's my Mama. My sensibilities come basically from my mother. It is from Mama that I get my love for nature. She would go into raptures at the sight of mountain streams and trees and the colors of flowers. She was so exuberantly expressive about all those things that they, unknowingly, became a part of me.
It is her sensitivity to little things that makes a difference to my life. Her perception of life changes mine. She just knows what I need without my having to spell it out. Not just her physical beauty, but the beauty of her inner being - her courage and her compassion . . . . As a child I always thought, this is the way I want to be when I grow up . . . just like Mama!

Mama was born and brought up in Burma, in a place called Mandalay. All those winter nights as a little girl in Amritsar, when I would snuggle up to her in bed, Mama would recall her childhood memories of Burma. People grow up on the Ramayana and Mahabharata, but my mythology was different. I grew up on stories of Burma.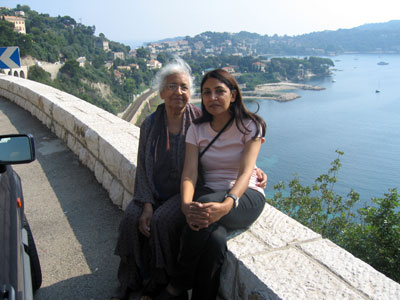 It was the winter of 2002, when I finally took Mama back to Burma. She was like a little girl, full of excitement, locating all those places of her childhood, people that were still there, her old friends from the convent school, the summer house in Lashio, crossing the Irrawaddy river by boat . . . there were some great moments I got to capture on my camera – seeing Mama return to her homeland, reliving her childhood in Burma, the country she had left (during the Japanese invasion) sixty years ago.

The bond between a mother and a daughter is something words cannot define - I would not even attempt . . . Each day that I grow older and I look into the mirror, I see more and more of Mama in me . . . that itself is a reward from life!

And I smile inside . . .


My mother's paintings- (Memories of Another Day)