Piti is what I call him, short for Pitaji, but as a baby I could never say that right, so it has always remained Piti.

My earliest memory . . .
I am five years old, sleeping on the moorah (wicker chair) in the veranda of our house in Amritsar. Mama is winding up the kitchen. I hear her voice – 'Look! Deepi has gone off to sleep here'. Then someone gently picks me up on his shoulder and carries me two flights up to the terrace and tucks me in my bed. That's my father. I pretend to be fast asleep. This is my first memory of my father, being carried on his shoulder.
That shoulder has always been there for me.

An image . . .
A cold Amritsar winter morning – me, and my sister are fast asleep in our quilts. Father comes to wake us up. He quietly stands in one corner of the room and begins to play the harmonium; the instrument perched on a stool. Gently, we wake up to the sound of the music.
So much of my life today reflects my father. He always wanted me to be an achiever, something more than the ordinary. No matter what I decided to do with myself, his support has always been there with me. Through discussions, exchange of views, sometimes arguments, brainstorming, brainwashing and even differing views, his support has been constant. He is a wonderful teacher and has always laid great emphasis on learning – to continue to be a student all your life.

Another memory . . .
I'm like 12 years old. Piti and I go for a long morning walk. This one Sunday we walk all the way up to the Jandiaale waali nehar (stream) in the outskirts of the city and walk back quietly without saying a word to each other. We silently communicate.
My father has been a teacher all his life. He taught English as a foreign language at Lehman College of the City University of New York. He was an immensely popular teacher, always adored by his students. He hated it when he had to retire a couple of years ago. Even now he cribs about it. At the college when once he became the victim of racial discrimination his students gathered in massive support in his favor and the authorities were compelled to reverse their decision.
His decision to move to America . . .

In order to provide us with better opportunity, he at a late stage in his life, decided to migrate to the US, while his other colleagues planned retirement. We were never denied anything just because we were girls. He has always said 'You can do it!' He gave up a well-respected job as the head of the English Department at Hindu College, of the Punjab University to start life from a scratch once again in America. Here he obtained his PHD in linguistics at age 65, a full 45 years after completing his M.A degree at age 20.
I have always admired his spirit for that. He left Amritsar with no security whatsoever, or even a promise of a job. The first year was hard – he had to work as a librarian by day and as a watchman, an ordinary guard of a building, by night. It was a traumatic time for him. That one-year has always remained an inspiration for me throughout my life. His struggled day and night, to be able to accrue enough money to send air tickets for all of us to join him in New York. When I reached New York, the first thing I did was to start working as a typist so that I could pay for my own tuition and not be a burden on him. I worked nine to five and went to night school at Hunter College in Manhattan. The spirit to work your way through life and roughing out in order to meet your dreams comes from my father.

Another memory . . .
The Elmhurst house in Queens -
Back in New York, I have decided to join films. The family is shocked. My mother is devastated. Both try their best to talk me out of my decision. But my father is able to see my passion for acting. So he decides to stand by me. Before I leave New York, he comes and sits with me. 'Acting is going to be with you till you have the looks – but painting is going to be with you till the end of your life, forever… the decision is yours'.
I choose to do both. Of course he would have loved it had I chosen to go to Paris to study painting further. But once my parents saw me acting in a movie, they have been quite proud of my work.

An image . . .
Pre-partition, The Roerich house at Naggar -
My father, a youngster at 19, sitting across the table with the statuesque old man, the Russian painter Nicholas Roerich, in the verandah of his house in Naggar, over looking the Beas river valley. Both the men share views and sit talking about life and art till the wee hours of the morning. Roerich has set aside an hour or two for the meeting but their conversation becomes un-ending, and he invites the young man to stay overnight, providing him even with a pair of pyjamas for the night.
Piti had been a student of English Literature at the Govt. College in Lahore before the Partition, when his admiration for Roerich led him to bring out a journal called 'The Joy Of Art'.

With a Ph.D. in linguistics, he was, back in 1961, also the author of the first Asian-language publication on a management technique called Work Study. I have memory of a letter of appreciation from Pandit Jawahar Lal Nehru hanging on the wall in Piti's study addressed to "Dear Professor Naval."

There were also several short stories which unfortunately are now lost. My father's literary roots come from his grandfather, an Urdu poet who lived in a village (now Pakistan) and was invited to Lahore to write a poem in honor of a British lord. That story was special to my father and was possibly the seed for his love for words and writing. His recollections of his first meeting with Roerich and a chance encounter with Amrita Shergil are catalysts for my parallel life as a painter.

Another image . . .
Long Island -

I am at my father's house one of my regular visits back home, re-arranging the furniture. This is the quaint little cottage Piti calls 'Oonch Neech'. Cut into the side of a hill, it has 5 levels, like small agricultural tracts in the district of Manali.


He is in his study, working on his computer . . . constantly typing. He hands out a manuscript to me saying, 'Read this, this is the first draft.' I look at him and see this small seventy-five year old man, effused with restless energy.
He is writing a book. He has been working on it for the last couple of years. He calls it, 'Zebra' – It is about immigrants and it will be an extensive and significant study about the Migration factor all over the world. Rupa & Co. of Delhi is the Indian publisher.
Lectures on Karma

My father has been giving discourses on the theory of KARMA for the past many years, and is constantly exploring the various facets of this theory, trying to find its application in day-to-day life.
Summer Holidays in Himachal
Mama and Piti were very fond of Kullu valley, so for our summer vacations we'd regularly go off to the hills. Mama would be painting rocks, huts and the pine trees and Piti would be exploring the landscape, briskly walking, egging us on. My parents' love for the mountains and the outdoors is most precious to me. Even today his pace of walking is so brisk: the sound of his feet going tap –tap-tap- up and down the stairs like a sprightly young man. I hardly perceive him as an old person though he is now eighty. And I still find my sense of belonging from this childhood my parents gave us: I keep returning to the orchards and hills of Kullu Valley for sustenance.


His sense of adventure and constantly challenging oneself has filtered into me: I find myself always planning options when things go slow so that there is a momentum in my life. This comes completely from him. No matter what the circumstance, to overcome, fight it out, and to move on with stronger determination. The need to be someone of worth, to invent a life of width and breadth, to stretch your limits, is what I inherit from him. That I write, paint, act and search for the elusive, is my legacy from my very special parents.


An early image . . .
Kullu valley -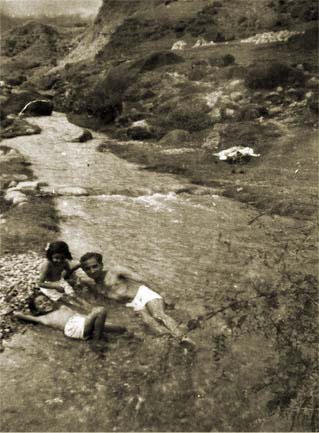 Mama is sitting on the rocks with her oilpaper and palette, painting, and my father is writing. This is Kothi, on route to Rohtang pass. Didi and I, seven and five, are in the khadd, playing in water.